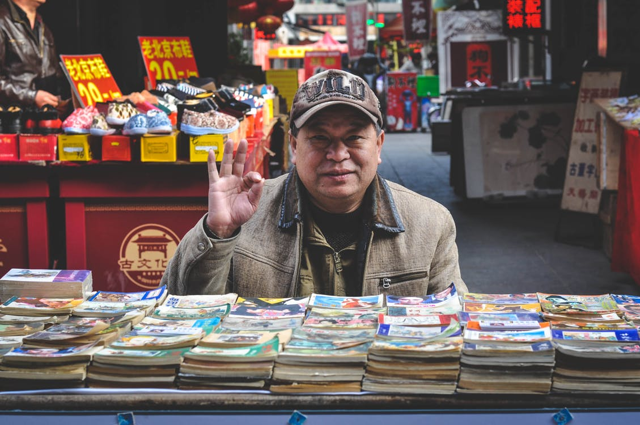 This is my take on the recent rumours that China wants to ban Bitcoin exchanges. It is looking with the day more credible that China is coming down on Bitcoin in the intermediate term.
Alphabet (GOOG) (GOOGL) was meddled with to such an extent it withdrew from the Chinese market entirely. Meanwhile, Apple (AAPL) is jumping through Chinese hoops for now. Also read: Apple's China Problem. China is definitely not a free market and from time to time we'll see the signs of that.
Trading volume spiked on the initial rumor China would ban the exchanges and the Bitcoin price immediately dropped hard. The graph below shows volume over the past seven days segmented by exchange.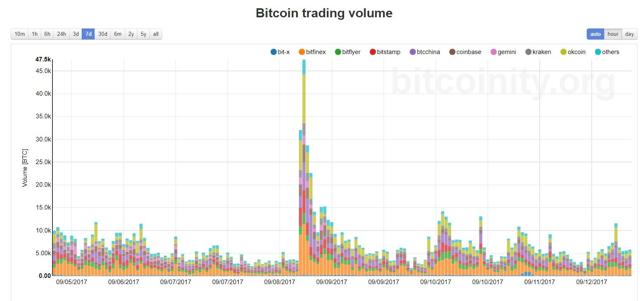 To give you an idea of how important Chinese volume is as a part of global volume: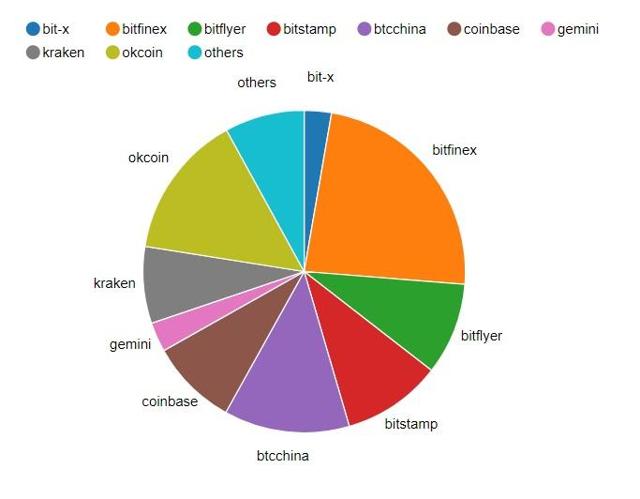 Btcchina and Okcoin are Chinese.
Bitfinex is located in Hong Kong. I have some funds there. I use them to experiment with small scale lending to Bitcoin traders (called funding). It's a risk but the interest rate appears to be more than reasonable compensation. I've sized it knowing I could be wrong.
Technically Hong Kong is China too, but in practice it has historically been a free zone. In the recent past the Chinese government has increasingly been impeding on that freedom and it remains to be seen what Bitfinex fate will be.
Can governments ban Bitcoin?
You'll hear claims that governments can't ban Bitcoin because it is decentralized. As a practical matter you need very little to be able to send or receive Bitcoins. It is extremely hard for a government to control the use of Bitcoin within its borders and it is likely no government can destroy Bitcoin (although I'd only use the world likely when referring to Bitcoin and very few other cryptocurrencies).
To convert Renmibi into Bitcoin and back, which is likely the concern of the Chinese government, that's another matter. Governments do have the ability to impede fiat – crypto conversions.
Back in 2011 I experienced the Black Friday of online poker as a player. Technically poker did not become illegal in the U.S. but in practice the government destroyed the market. Regulation can have a profound effect even if it is very hard for the government to completely shut it out.
Bitcoin or cryptocurrencies are a lot harder to control for the government compared to online poker deposits but when the men and women in the streets view Bitcoin as an illegal, black-market thing, that's bad for its development. Government regulation does have an effect on how cryptocurrencies will develop in the next ten years.
What is the effect on Bitcoin from a China ban?
We've already seen a sizeable drop in price. So, there's been an effect already with Bitcoin even falling below $4k. I imagine the ban rumour isn't all bad in the very short run. Until the government actually puts measures into place this creates an urgency for Chinese citizens to get their Renmibi's converted to Bitcoin in order to remain in control of their capital. Its buy Bitcoin now or never for the Chinese. China has the 6th most millionaires in the world. According to a survey from the Hurun/Visas Consulting Group, among Chinese with a networth of $1.5 million or more, half want to move it abroad.
However, a sharply falling price will have the Chinese thinking twice before putting their Renmibi through the grinder.
In the intermediate term after a ban is in place I expect Bitcoin will decline.The Chinese want more freedom. Bitcoin is one way to gain it. China is an enormous economy with stringent capital controls. With the Chinese demand dropping or at least levelling off, is without any doubt going to be a severe headwind for the price development.
Not the end of Bitcoin
It won't destroy Bitcoin. Google is completely absent from China and Alphabet is thriving. Perhaps because it did not yield to the Chinese government's demands.
If Bitcoin establishes itself on a global basis without the Chinese, ultimately it will still become connected to the Chinese cryptomarkets. China has a playbook where its government unofficially discourages market dominance of its market by foreign technology. China may want to grow up its native digital currency but ultimately all cryptocurrencies are likely going to be fungible at lightning speed.
Conclusion
On a very short term basis there could be a lot of demand for Bitcoin from China. This would be spurred when the Chinese government would set a hard deadline or exchanges would announce a closing date. It's also possible this doesn't happen. Another short term positive could be Chinese citizens converting altcoins into Bitcoin which I wrote about in the Chinese Buying Opportunity.
In the intermediate term Bitcoin will experience significant headwinds from Chinese demand falling off. The question is whether other drivers will turn out sufficiently bullish to compensate.
If there is any significant selling this could set off a cycle of selling and we could see a deep drawdown as a result.
My action as result of these considerations have been to sell ~1/3 of my Bitcoin exposure. 1/2 of that I've sold in exchange for additional Ripple and 1/2 of that I've turned into U.S. dollars.
I did this because I think the rumours appear to be sufficiently credible – and the effect more than that they warrant a defensive measure against a potential deep drawdown. The risk of this move is that I sell now and get screwed out of $800 if the price quickly bounces back to nearly $5K again after the rumours turn out to be false or simply not effective. I'm willing to take that risk with part of my position.
Disclosure: I/we have no positions in any stocks mentioned, and no plans to initiate any positions within the next 72 hours.
I wrote this article myself, and it expresses my own opinions. I am not receiving compensation for it (other than from Seeking Alpha). I have no business relationship with any company whose stock is mentioned in this article.
Additional disclosure: I'm long Bitcoin